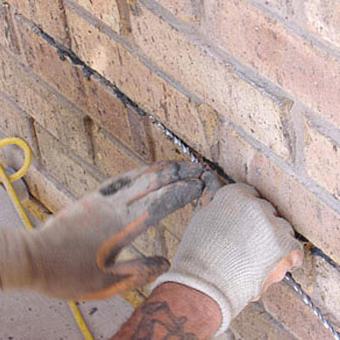 In situations where masonry has cracked and failed, as a result of ground movement, weathering or increased loads or stresses, the unique Helibeam System provides stress-free horizontal bed-joint reinforcement which ties the masonry together while creating deep masonry beams which distribute the structural loads. Other ties and fixings provide lateral and vertical restraint to complete the system, which is applicable to all types of masonry structures.
For many situations the Helibeam System offers a structurally sound alternative, at significantly less cost than underpinning and other traditional repair methods. Overall disturbance to the ground, building and occupants are considerably reduced and after repointing and making good, the building is left virtually unmarked.
Cornwall Structural Specialists are approved installers of Helical systems and can offer Indemnified Design for most projects. We are also pleased to offer advice, make free site visits and propose structural repair programmes.
Cornwall Structural Specialists install stainless steel reinforcing bars for repairing cracks in wall structures. Retrofit masonry reinforcement in the form of helical bars having a tensile strength that is twice that of rebar.
Cold rolled shaped wire is twisted to deliver high tensile reinforcement with unique torsional elastic yield characteristics. The helical bars are ideally suited for crack stitching repairs and masonry wall reinforcement.
When anchored across fractures Thor Helical bars progressively accumulate loads along the full length of the helix to reinstate the structural integrity of cracked walls. Used in pairs, stainless steel masonry reinforcing bars form deep masonry beams, which span areas of masonry failure, to redistribute loads and enhance the tensile, shear and flexural capacity of the wall.